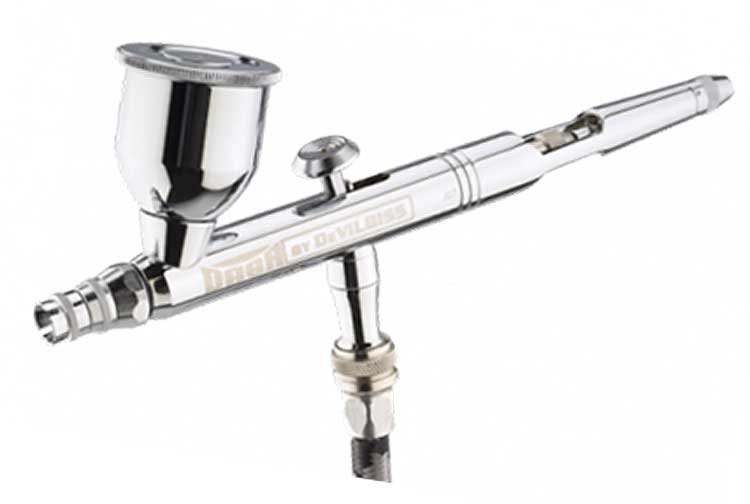 Designed for the automotive industry by one of the leading manufacturers, this durable airbrush is capable of fine detail up to larger coverage for auto graphics and large fades. Very smooth trigger pull and awesome atomization make the Dagr a very versatile airbrush.
Safe for solvent based paints with a user serviceable Teflon needle packing. Adjustable trigger pull for a feather light pull down to a crisp tight trigger to satisfy any artists preferences. Made in the U.S.A. the machining is impecable, fit and finish are top notch. They make a full "Parts Pack" for this airbrush that includes the larger cup, trigger buttons, needle, nozzle, hose, o-rings and quick disconnect kit.
Don't let its stout appearance fool you, this airbrush is capable of very fine detail and long lines. The replaceable paint cups allow you to tailor the airbrush to the job at hand. Other airbrush manufacturers make you buy a "Kustom" line to get larger cups, the Dagr's are changeable for a few bucks.
Specifications

Trigger:
Dual-Action
Feed:
1/3oz Removable Gravity Feed Cup (1/4oz and 1/2oz Optional)
Spray Size / Pattern:
Hair-Line to High paint-flow Shading / Round
Tip Size:
.35mm
Nozzle Type:
Floating
Needle Packing:
Teflon
Crown Cap:
Removable
Features:
Alternate Trigger Buttons, Pre-Set Cut-Away Handle
Weight:
4.65oz / 131g
Ratings

Build Quality:
Fit & Finish:
Parts Availability:
Parts Pricing:
Features:
Options:
Performance:
Price:
Value: